FREE Knit and Crochet Classes
For the month of January we are offering FREE Knit and Crochet Classes with purchase of supplies.  PLUS, supplies needed for the class are 10% off! Can you believe that??? What are you waiting for?!? Call us at 918-481-1055 and have us reserve your spot in class today…
Our classes have limited seating to give our customers the best learning environment.
Free knit classes are on Saturdays at 3:00 pm on January 14th -and/or- 28th. The teacher is Janet Miller.
Free crochet classes are on Saturdays at 3:00 pm on January 7th -and/or- 21st. The teacher is Deborah Broome.
__________________________
2-circular Sock Class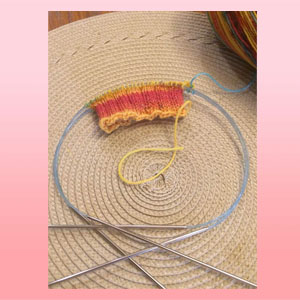 Come and learn how to knit socks using 2-circulars. If you have difficulties knitting socks with double points or using magic loop, maybe this method is the one for you. Janet Miller will show you how to use the 2 circulars to cast on, turn the heel, make the gusset, and bind off the toe.
All classes start at 11:00 am for four Saturdays (second and fourth Saturdays). The first class is January 28th, second class is February 11th, third class is February 25th, and the fourth class is March 11th. Cost is only $10.00 per class, and supplies needed for class will be 10% off.
Call us at 918-481-1055 to reserve your seat for this class.
__________________________
Stitch in Time
Come join us each month on either the First Saturday -or- Second Thursday and learn a new stitch. This is a great class for beginners that want to learn more knitting techniques. For 2017 we are going to complete a block per month out of the Building Blocks book by Michelle Hunter of Knit Purl Hunter.
Click here for more information…
__________________________
Cross that Stitch
This is a new club for 2017 that covers different forms of Hand-Embroidery and techniques. We are starting off simple and will build each month. Not only will you learn how to embroider, but I will have finishing ideas for your piece. More information coming very soon…
__________________________
Class:  Knit with Michele
Teacher:  Michele Brock
Date:  Every Thursday
Time:  1:00pm to 2:30pm