Beginning Sock Class
This is a great class to learn to knit socks using Double Point needles.  Janet Miller is our wonderful teacher who will teach you step-by-step how to knit socks. Cost is $10.00 and you will get 10% off your supplies needed for class.
Beginning Sock Class is Saturday, March 4th, starting at 11:00 am.  Call us today at 918-481-1055 to save you a seat.
__________________________
Cross That Stitch!
In January we learned about different ways to embroider a snowman.  This month we will teach you the ins and outs of making the snowman into a standup.  If you did not attend January's class and are interested in making a standup, please bring your project and fabric to complete a standup.  Cost is $40.00, and includes supplies for the project.  You must RSVP to reserve your supplies and seat.
__________________________
 2-circular Sock Class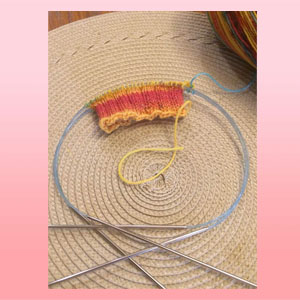 Come and learn how to knit socks using 2-circulars. If you have difficulties knitting socks with double points or using magic loop, maybe this method is the one for you. Janet Miller will show you how to use the 2 circulars to cast on, turn the heel, make the gusset, and bind off the toe.
All classes start at 11:00 am for four Saturdays (second and fourth Saturdays). The first class is January 28th, second class is February 11th, third class is February 25th, and the fourth class is March 11th.
Cost is only $10.00 per class, and supplies needed for class will be 10% off.
Click here for more information…
____________________
Mystery Scarf for Beginning Knitters
We have a neat scarf pattern that contains a few different stitches for beginners to learn!!  You don't want to miss out on the fun while learning new stitches!   Cost is $10.00 which will cover the personal instruction; you will get 10% off of your materials needed for this class.
Click here for more information…
____________________
Janet's Workshop
Saturday, March 25th, at 1pm Janet Miller will be available to help you with any knitting question may have on your current project.  You can come and spend the afternoon with her and take advantage of her knowledge.  Cost is $10.00.
____________________
Weavers Rapid Warp Loom Class
Love to Weave
Hate to Warp
Come and learn how to use this rapid warp loom.  It is so amazing easy, you will not leave the shop without taking one home – it's just that fantastic!!
Click here for more information…