Silky Mulberry
This silk yarn is spun in Italy at the finest mills and hand-painted in Canada.  It has a beautiful drape, gorgeous sheen and vibrant colors.

Contents: 
100% Mulberry Silk / Hand Wash Cool, Lay Flat
Gauge: 
22 sts=4″/US 6 needle
Yardage: 
300 yards
Weight(s): 
DK
Price: 
$
Silk Jewel
Pure mulberry silk yarn embellished with beads.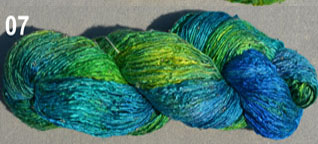 Contents: 
100% Mulberry Silk / Hand Wash Cool, Lay Flat
Gauge: 
22 sts=4″/US 6 needle
Yardage: 
273 yards
Weight(s): 
DK
Price: 
$